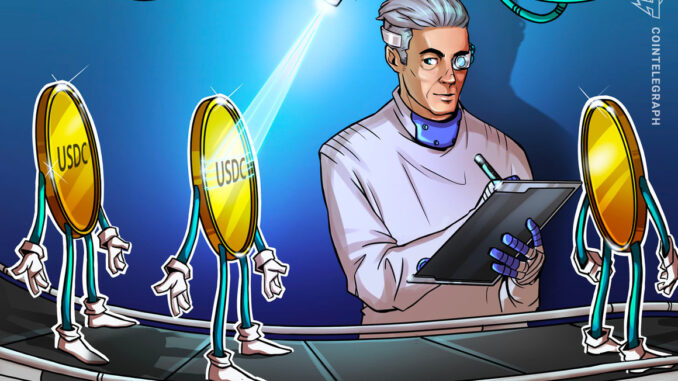 The digital asset exchange platform Crypto.com has now enabled withdrawals of USD Coin (USDC), meaning that users can withdraw the stablecoin and receive U.S. dollars at a one-to-one ratio directly to their bank account.
The announcement comes just over a month after the platform launched support for USDC deposits, following a new partnership with the stablecoin's issuer, Circle. The partnership enabled Crypto.com users to transfer fiat currency into their trading accounts to receive an equivalent amount of USDC.
USDC, first released by Goldman Sachs-backed Circle in September 2018, is a popular USD-pegged stablecoin that crypto investors can use to trade against major cryptocurrencies like Bitcoin (BTC) and Ether (ETH). On Crypto.com, the stablecoin is currently supported in over 50 different trading pairs with other digital assets.
Over the past couple of years, fiat currency-pegged stablecoins have become an increasingly popular means of establishing seamless fiat-to-crypto payment gateways on cryptocurrency exchanges. 

The numerous USD-pegged assets on the market – among them, USDC, Binance USD (BUSD) and Paxos Standard (PAX) – were anticipated by the veteran, and still most liquid, stablecoin, Tether (USDT). Past controversies surrounding the latter's lack of transparent accounting for its U.S. dollar reserves have prompted the issuers of later stablecoins to vie to prove their credentials with regulators as scrutiny of the stablecoin sector, particularly in the U.S., continues to intensify. 
Related:  Crypto.com taps Circle for global dollar deposits
To this end, USDC – currently the second-largest stablecoin after USDT – has recently been audited by the multi-national tax advisory and consultancy firm Grant Thornton. USDC's issuer Circle has also this summer announced its plans to go public on the New York Stock Exchange, following a merger with a special purpose acquisition company (SPAC). 
[wp-stealth-ads rows="2" mobile-rows="3"]