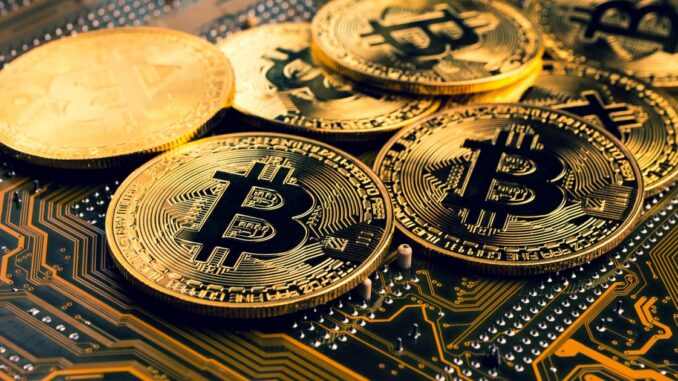 The leading cryptocurrency Bitcoin experienced a robust bullish rally this week, rebounding from the week's lowest point of $43,998 to the highest point of $50562.11 on August 23, which is the first time since the panic selling of cryptocurrencies in mid-May caused panic due to multi-party suppression.
According to Coinmarketcap, Bitcoin has decreased by 2.03% within 24 hours. At the press time, the bulls are actively defending the psychological barrier of 47,000. Bitcoin was trading at $46911.11 during the intraday.
The latest report from Glassnode stated that the key level of Bitcoin is $53,000. Only when this level is exceeded can the market value of Bitcoin return to the trillion clubs.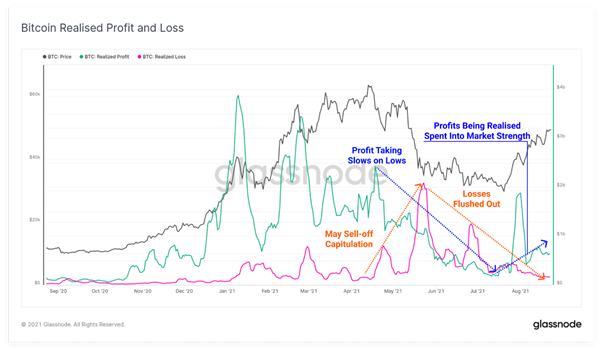 At present, long-term holders are found on the chain to realise a small number of profits, but in general, investors who hold unrealised gains will sell more BTC than those who hold unrealised losses. This means that loss-making investors are not likely to sell BTC at this stage but wait until the cost price is close before exiting.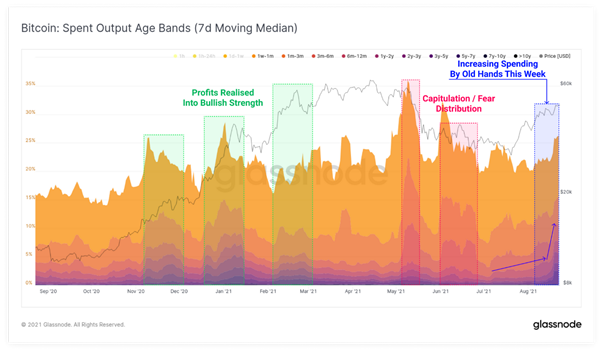 Analysts said this week that long-term investors are mainly concentrated in Bitcoin traders with rich experience who have held BTC for six months or five months. They will further sell their BTC this week and exit the flow liquidity. Most of it is probably because the $50K mark is not easy to break through and stand above the $50K psychological mark after a downturn that lasted nearly four months. Therefore, it will choose to sell the existing BTC.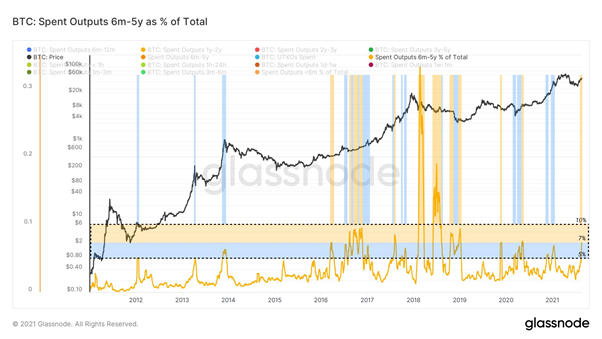 The above figure is composed of 6 months to 5 years of currency age, which is the expenditure chart of daily trading volume in total trading volume. This percentage is smoothed using a 14-day moving average. From the figure, it is not difficult to find that the average currency age has been showing an upward trend since July, and it has run through this rebound.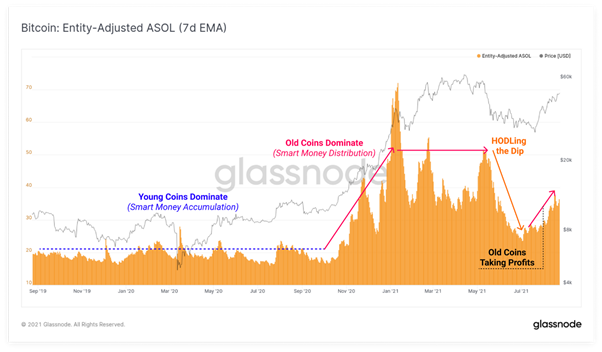 The ASOL indicator has increased, which means that some long-term holders have stopped hoarding coins and realised profits. ASOL stands for AverageSpent Output Lifespan, a metric that shows the average time (in days) spent on transaction output.
From historical data, if the indicator peaks for several consecutive weeks, it indicates that there has been a lot of selling.
The observations in the above chart also confirm that veterans are selling for profit. So far, the market is absorbing sellers because prices have been climbing. This shows that there is enough demand to absorb the bitcoins that are being sold.
As reported by Blockchain.News on August 25, the statistics show that Bitcoin Inflows to Exchanges on the Rise, Which Could Signal a Bearish Momentum.
Image source: Shutterstock
[wp-stealth-ads rows="2" mobile-rows="3"]