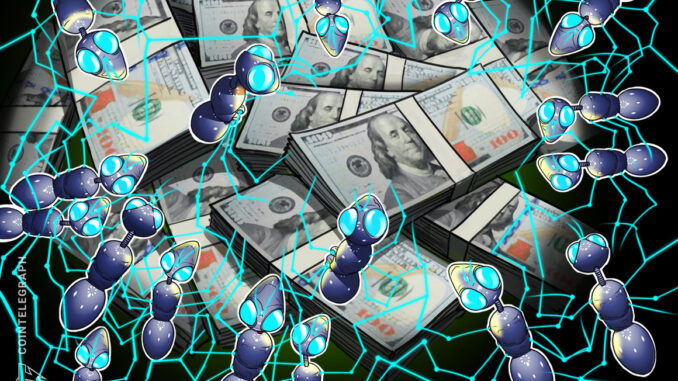 Major U.S. asset manager Grayscale has just surpassed $50 billion in cryptocurrency assets under management for the first time. Grayscale's AUM is creeping ever closer to the $57 billion holdings of the largest commodity ETF.
MILESTONE: We just reached $50 billion AUM. Yet another reason to #GoGrayscale. pic.twitter.com/Jrk7n6TAOI

— Grayscale (@Grayscale) April 14, 2021
The company has plans to convert into an ETF when regulations allow. 
If the ETF had been approved already, Grayscale would be the second-largest commodity ETF behind SPDR Gold Shares. GLD is a physically-backed gold exchange-traded fund (ETF) with listings on stock exchanges in the U.S., Mexico, Singapore, Japan, and Hong Kong.
Grayscale CEO Michael Sonnenshein tweeted that he believes the Grayscale Bitcoin Fund, or GBTC, is likely to surpass the GLD fund by market cap in a few months.

'We believe gold symbolizes the diminishing potential for sustained commodity-price advances, notably vs #Bitcoin. Assets in @Grayscale's $GBTC, the dominant on-exchange vehicle, are set to pass funds in the leading gold-ETF tracker $GLD in a few months'@mikemcglone11 @JSeyff pic.twitter.com/YQwA6M5WFm

— Michael Sonnenshein (@Sonnenshein) April 14, 2021
Grayscale provides cryptocurrency exposure to institutional investors and holds approximately 660,000 BTC in total representing 3.5% of Bitcoin's 18.68 million circulating supply. Almost 655,000 of these are held in Grayscale's Bitcoin Trust.
Grayscale doesn't just deal in Bitcoin, with almost 20% of the company's AUM spread across a dozen other cryptocurrencies including Ethereum ($7.4b), Litecoin ($405m), Ethereum Classic ($267m), and Bitcoin Cash ($234m). In the last month, five more trusts were created — Decentraland's MANA ($18.6m), Livepeer ($13m), Filecoin ($7.7m), Basic Attention Token ($4.8m) and Chainlink ($4.5m).
The firm is already the largest U.S. digital asset manager by a large margin, with Pantera, the second-largest manager, holding only $4.3 billion, less than one-tenth of the $50 billion held by Grayscale.
Yesterday the asset manager announced a partnership with Time Magazine to produce an educational crypto videos series. The magazine also agreed to receive payment in Bitcoin and hold the digital asset on its balance sheet.
[wp-stealth-ads rows="2" mobile-rows="3"]